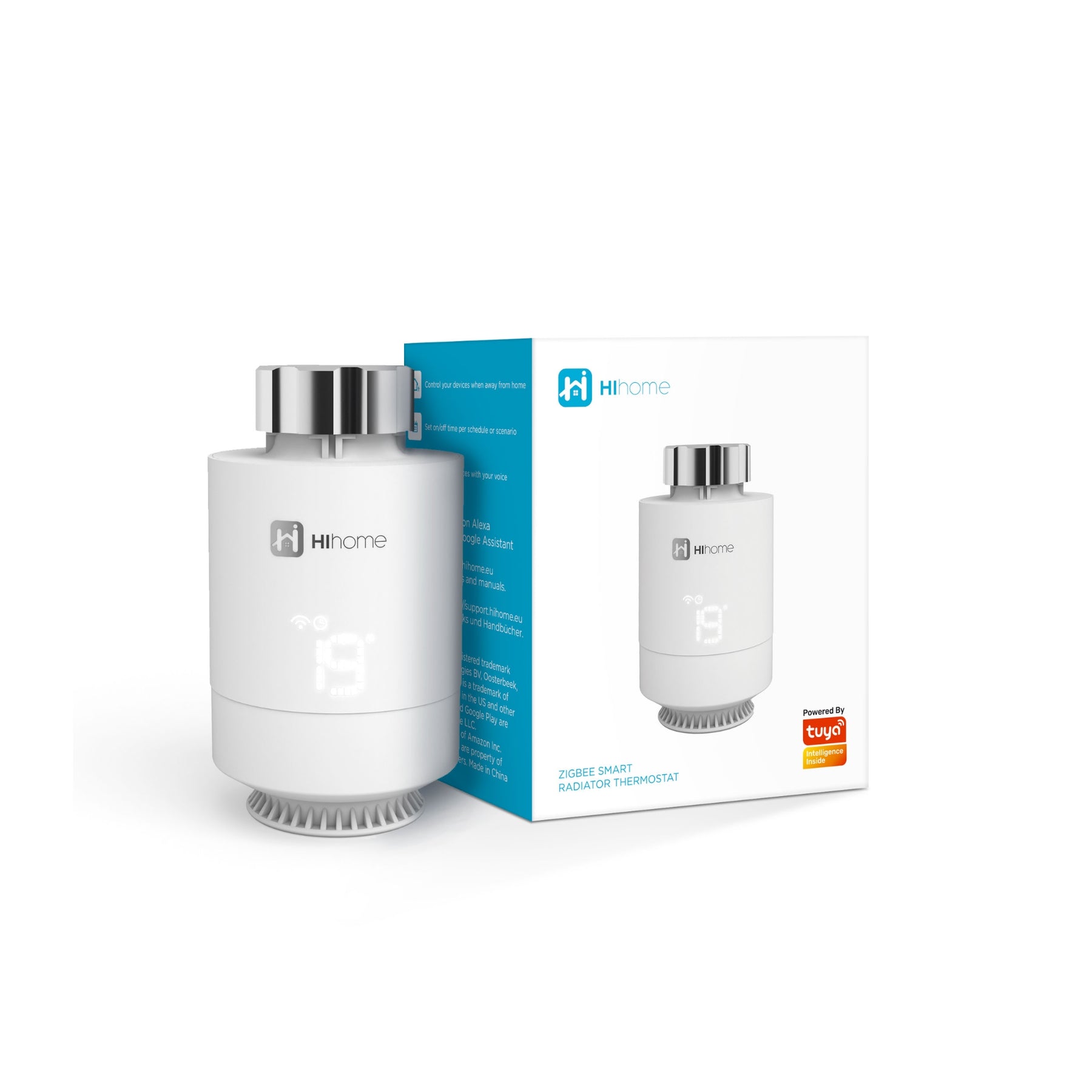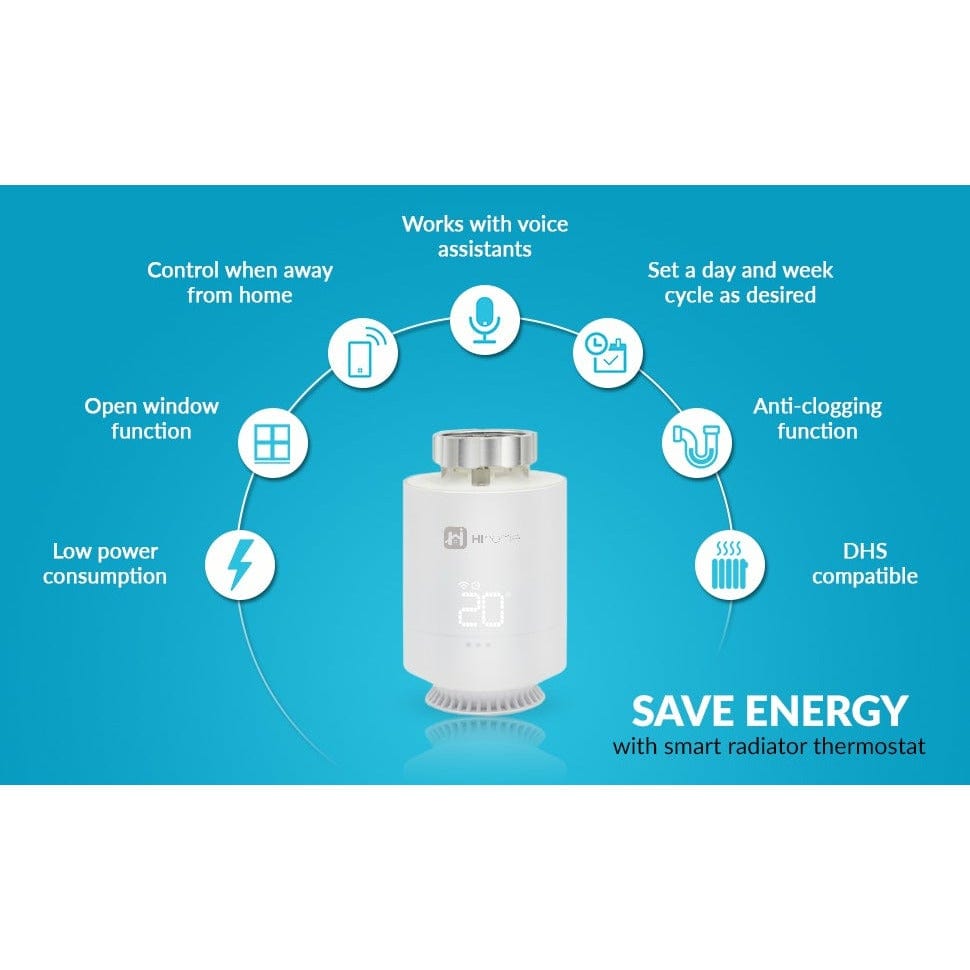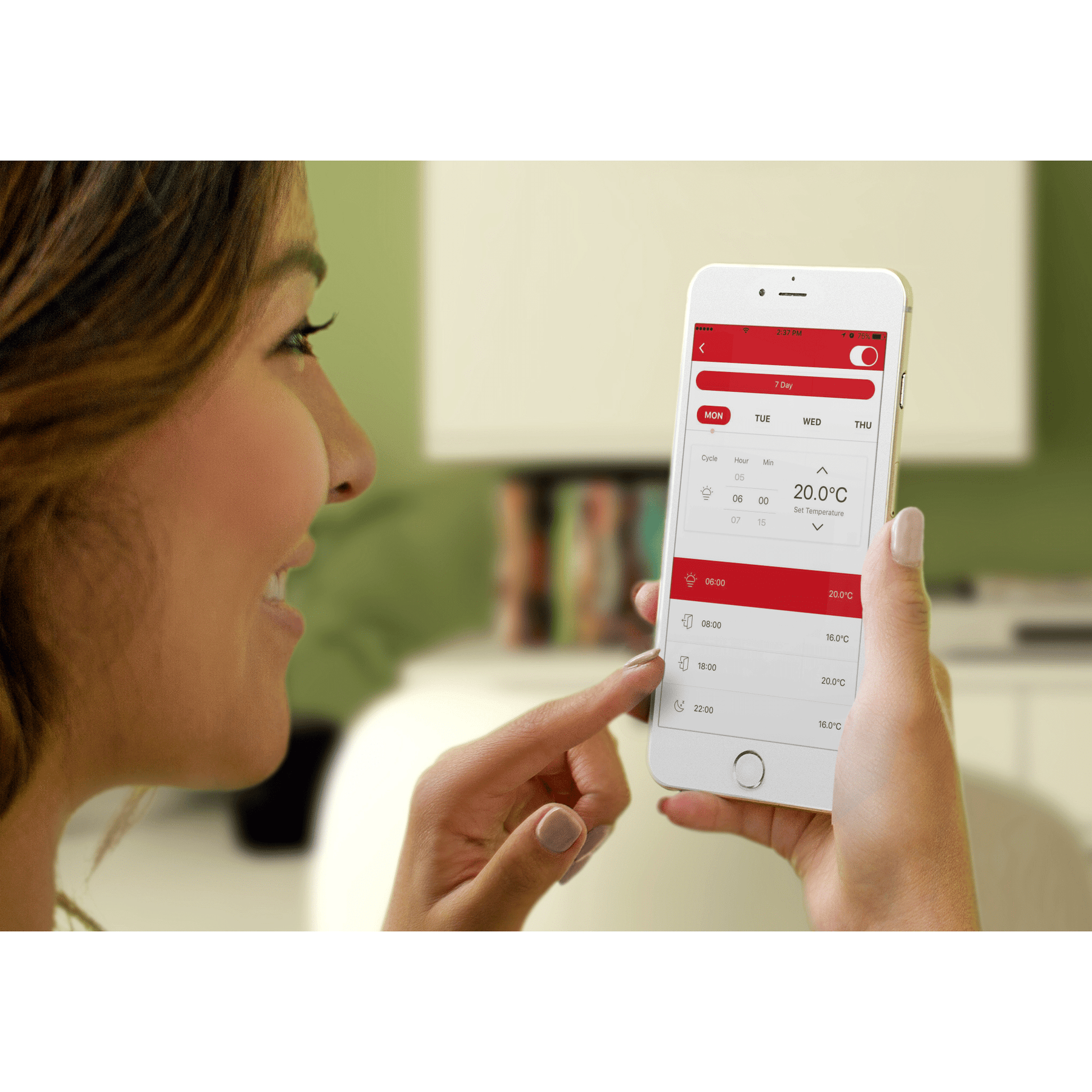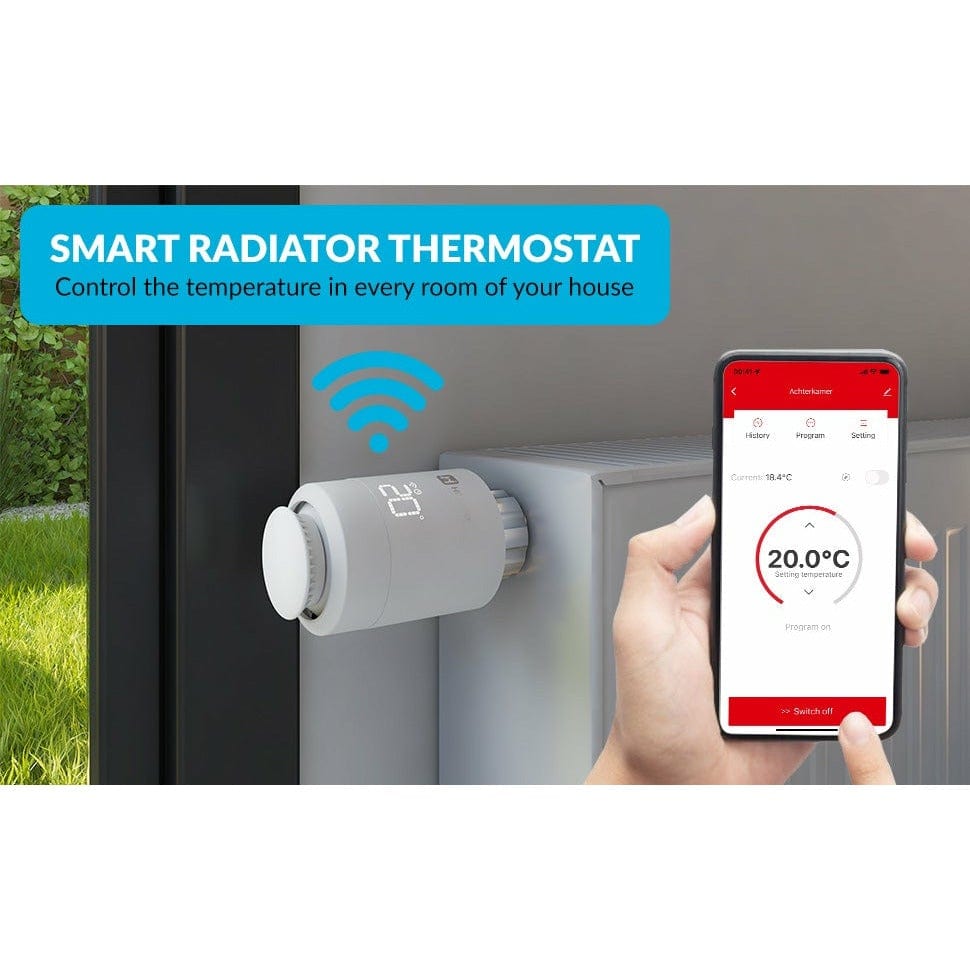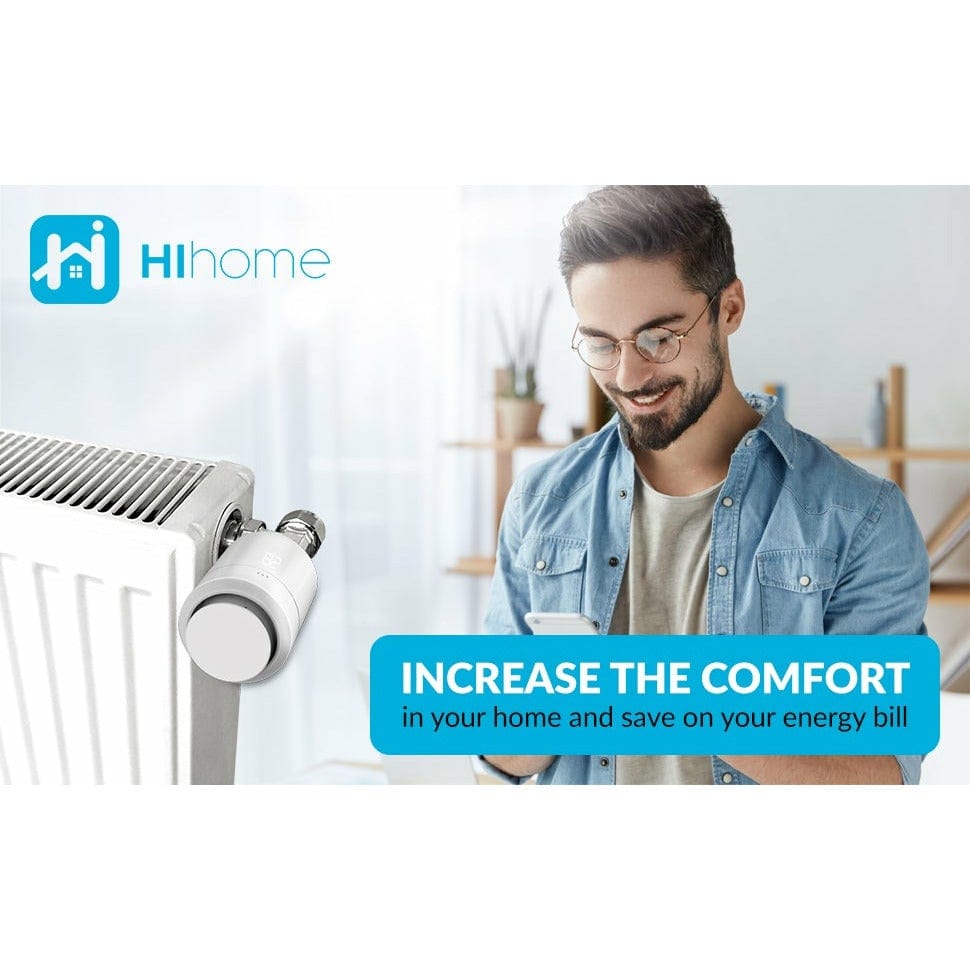 Hihome Smart Zigbee Smart Radiator Thermostat V2
- Control your heating from anywhere with the Hihome App
- Recoup the purchase quickly through smart savings
- Also ideal with city or block heating
- Operates up to 2 years on 2xAA batteries. Attention; Zigbee Gateway required
- Connection with very common M30x1,5mm ring. 4 adapters included.

Smart programming helps you save energy.

With the Hihome Smart Zigbee Radiator Valve you can control the temperature in every room of your house. With the Hihome smartphone app you can program a time program and adjust the desired settings with one tap of a button.

Integrate with Amazon Alexa, Google Home Assistant or Apple Siri Shortcuts to use voice commands, or adjust manually with the control knob for the perfect temperature in any room.


Attention! : A Hihome or Tuya-compatible Zigbee gateway is required to operate this Smart Thermostat. A gateway is not included in this package.
Features
Low power consumption: The Hihome Smart Zigbee Radiator Valve works on the long distance Zigbee wireless protocol and ensures a long battery life. The Smart Radiator Valve operates for up to two years on two AA batteries. 
Open Window: If an open window causes a temperature drop of 4ºC within 6 minutes, the valve will automatically close. The optional motion or door/window sensor will also prompt the Smart Valve to close if it senses a temperature drop.


Works with your home: The Hihome Radiator Thermostat uses a very common 30x1.5mm connection and comes with four adaptor rings for a perfect fit on almost any valve.


Anti-clogging function: Thermostat valves tend to stick after periods of inactivity. The Hihome Smart Radiator Valve automatically opens every 14 days when not in use to prevent clogging.


DHS compatible: Works with European district heating systems.
What's in the box?
Hihome Smart Zigbee Radiator Thermostat
Four adapter rings 
Quick start guide
Attention! : A Hihome or Tuya-compatible Zigbee gateway is required to operate this Smart Thermostat. A gateway is not included in this package.
You can buy a separate Hihome Zigbee gateway or buy a starter kit.
For fitting instructions please refer to Hihome support.
View the compatibility list to see which radiator valves are compatible with the 30x1.5mm connection as standard or with one of the 4 adapters provided. 
The Hihome Smart Zigbee Radiator Thermostat Starter Kit does not control the central heating.
This smart radiator thermostat is similar to the SEA802.
Hihome Smart products are compatible with 2.4 GHz WiFi networks. 5GHz networks or dual-band SSIDs are not supported. Visit Hihome support for specifications and more information.
| | |
| --- | --- |
| Connectivity | Zigbee 2.0 |
| Battery | 2x AA (not rechargeable) not included |
| Battery life |  up to 2 years |
| Temperature accuracy | +/- 0,5º |
| Temperature setting | 0º - 50ºC |
| Operating temperature | 5º - 30ºC |
| IP Class | 21 |
| Display | LED |
| Total length | 94.3 mm |
| Diameter | 55 mm |
| Maximum radio transmission power | 20 dBm |
| App available for | Android and iOS |
| Frequency range | 2400 - 2482.5 MHz |
| Maximum range | >30m open field >15m indoors |
| Compatible with | Hihome App - Tuya compatible Apps like Smart Life |
| Works with | Google Home Assistant, Amazon Alexa, Apple Siri Shortcuts, Apple Widgets |
Thermostatic faucet
Works fine overall well.
Only battery status is sorely missed.
At some point these (battery) were dead and faucet supply stop open after that.
Sustainable smart
By using smart thermostats, I can sustainably control the temperature in rooms that only need some heat at certain times. This is sustainable in terms of our climate and sustainable in terms of it being fully automatic and hence sustainably smart
Works fine, really does what is promised.
Very convenient installation and works perfectly.
Ideal that you can use the app to set and control the thermostatic faucet.
Multiple programs per day possible.
Saving!
Top purchase has been, never again forgetting to turn the heater on, but more importantly OFF in the study rooms.